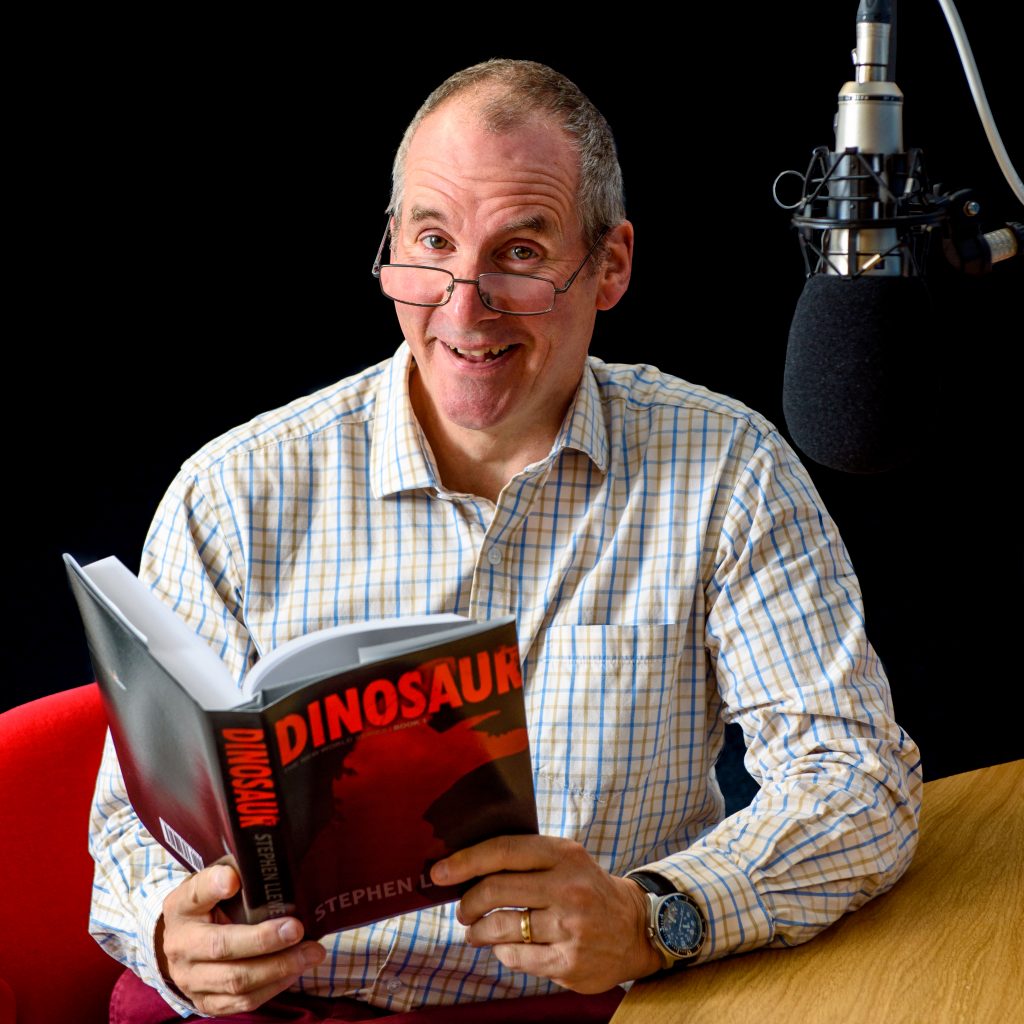 PRESS RELEASE: FOSSIL ROCK AUTHOR STEPHEN LLEWELYN TEAMS UP WITH ACTOR CHRIS BARRIE TO BEAT LOCKDOWN
Star of the big and small screen, Chris Barrie – probably best known and beloved as the hologram, Arnold J Rimmer, in the hit BBC sitcoms 'RED DWARF' and the notorious Gordon Brittas in 'THE BRITTAS EMPIRE' – is lending his vocal talents to the recording of a new sci-fi adventure of 'roarsome' proportions.
Whilst the creative arts industry is widely suffering due to the pandemic, some UK publishers are reporting profits up 60% on e-book and online sales, and audiobooks continue to be the fastest growing segment in publishing, creating a valuable niche for actors and performers.
This 'lockdown project' presented Mr Barrie with a perfect opportunity to stay busy and safe, while enjoying a new challenge. Complying with the government's health guidance, he spent a large proportion of the UK's national lockdown periods in a studio near London, completing the audiobook recording. He says, "It has been an absolute joy to record DINOSAUR. I look forward to recording further titles in the series next year."
'DINOSAUR' by Stephen Llewelyn is the first novel in the acclaimed 'New World Series', set accurately against the backdrop of Mid-Cretaceous South America. Llewelyn combines classic character-driven, edge-of-the-seat 'whodunnit' with fascinating glimpses of our planet millions of years ago.
Mr Barrie further comments: "We are living through truly unprecedented times and as things stand it is very difficult to identify a viable route back to what we used to call normality. Recording DINOSAUR has given me the chance to get really creative during this time. It's an excellent adventure story, packed with action, suspense, humour and emotional drama played out by a wonderful gallery of characters.
"There is no denying that the prospect of recording a 500 plus page novel with a very broad range of characters and some hellish pronunciations was initially quite daunting, but the more we recorded, the more I relished the challenges of 'owning' the characters and bringing Mr Llewelyn's fantastic descriptions and observations off the page. It has been a great privilege to be involved in this project and I hope people enjoy listening to DINOSAUR as much as I enjoyed recording it!"
Author Stephen Llewelyn says: "Mr Barrie's genius for impressions and portrayal of multi-faceted characters, along with his longstanding interests in science, the military and engineering, made him the natural choice for this audiobook. He has been a pleasure to work with at every level. I'm delighted and honoured to have him on board."
Also available in hardback, paperback and Kindle formats along with other titles from the series, the full and unabridged audiobook of DINOSAUR performed by Chris Barrie is now available to order in both download and CD formats, from www.fossil-rock.com/dinosaur-uk
Visit www.fossil-rock.com/dinosaur-uk for further information about 'DINOSAUR' and the New World Series. More information about Chris Barrie can be found at www.chrisbarrie.co.uk
** UPDATE – The audiobook is now available to download or purchase the MP3-CD at www.fossil-rock.com/dinosaur **
OCTOBER 2020 – We are thrilled to announce that the phenomenal CHRIS BARRIE – everyone's favourite hologram in Red Dwarf, the unforgettable Gordon Brittas and inimitable voice talent of Spitting Image – has recently recorded the unabridged audiobook of DINOSAUR by Stephen Llewelyn.
The project is now in the final stages of mastering for release, and will be available on audio download and MP3 CD in December 2020.
We are incredibly excited to have such an acclaimed and beloved sci-fi sensation on board!